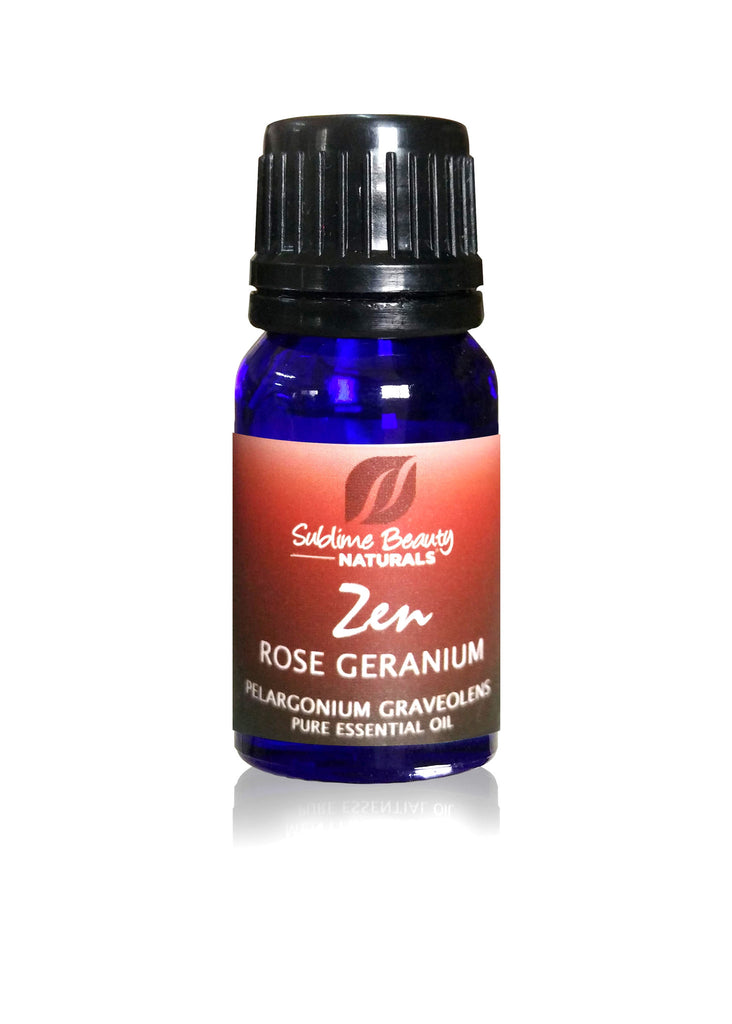 Sublime NATURALS® | Essential Oils, Wellness & Beauty
Zen ROSE GERANIUM ESSENTIAL OIL
$ 15.99 $ 25.00
Rose Geranium is a delightful essential oil which lifts the spirit but has many useful therapeutic values as well.
Latin Name:  Pelargonium graveolans  Sourced: Egypt (most Geranium is sourced from Egypt, China and Ile de Reunion today) Production: Steam Distilled (leaves & stems)
LISTEN TO THIS SHORT AUDIO ABOUT ROSE GERANIUM:
In aromatherapy, Rose Geranium is an anti-depressant, an antiseptic, a special anti-inflammatory and excellent for wound healing. It is also well-known for promoting healthy skin.  Diffuse this oil to clarify the air of microbes but also to create a supportive, even tranquil environment with such a pleasant scent.
Caution:  Rose Geranium helps in the formation of blood clots and stops excessive bleeding; if you have any tendency with blood clot issues, please avoid this oil. 
Rose Geranium has a wonderful aroma (deep sweetness yet herbaceous) as you will see, which is uplifting!  Like many essential oils, it has powers for different situational uses. In fact, Dr. Kurt Schnaubelt says: "The tonifying effect of the terpene alcohol combined with the soothing influence of the esters are responsible for the fact that geranium is perceived differently for each individual. One person will perceive it as antiseptic, another as calmative, and a third as stimulant...because of this versatile character, geranium is an excellent foundation for massage and body oils."
100% Pure Therapeutic Quality. (GC/MS report available upon request.)
Please refer to Safety Tips before purchase or use.