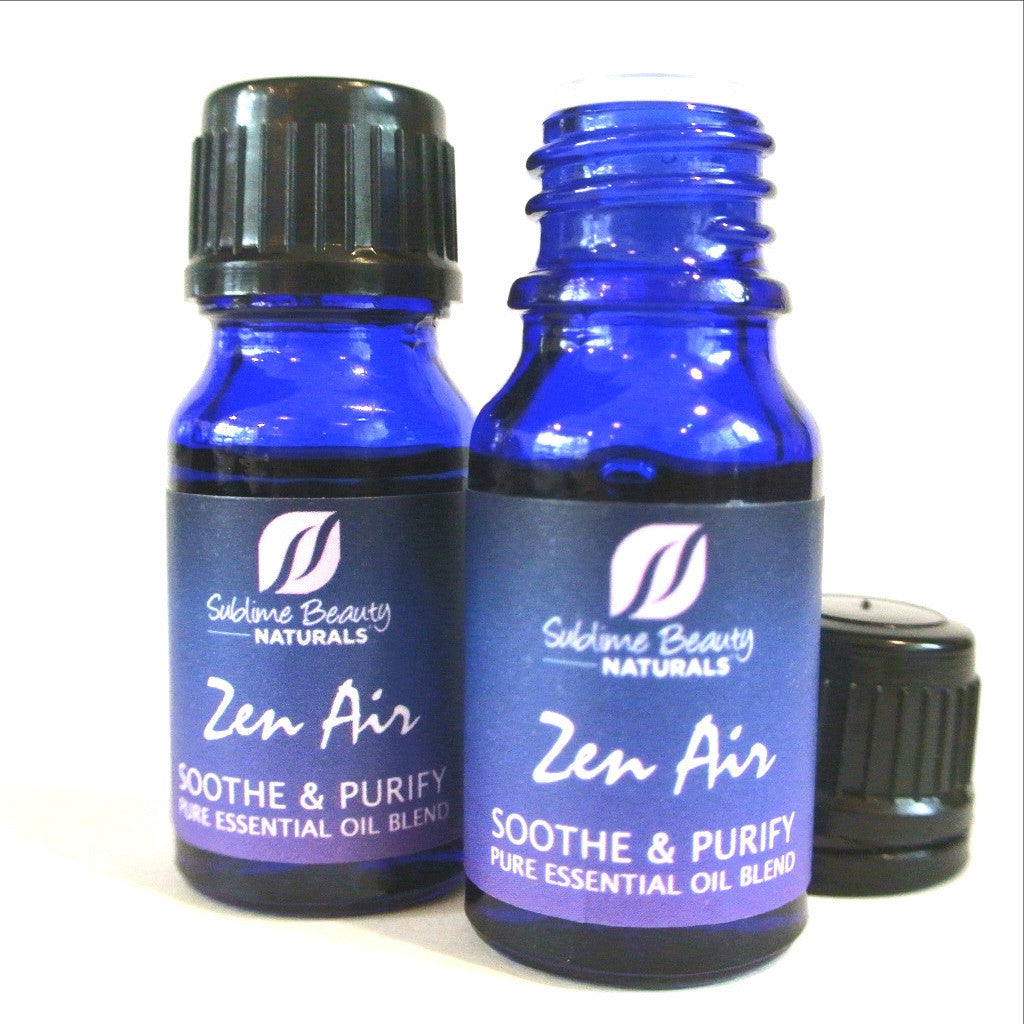 Sublime NATURALS® | Essential Oils + Organic Face & Body
Zen Air SOOTHE & PURIFY BLEND
$ 14.99 $ 19.00
NEW! 

ZEN AIR SOOTHE & PURIFY BLEND TO PURIFY THE AIR OF MICROBES, OFFER A SOOTHING ENVIRONMENT.

We designed this blend SPECIFICALLY to diffuse and purify your air, stay well, and create a comforting environment. 
LISTEN TO THE AUDIO PODCAST ABOUT THIS BLEND:


Here are the essential oils in this ZEN BLEND and why each was chosen:
Magnolia- Used for thousands of years (especially in the east and in India), magnolia has calming and relaxing properties, chosen for the blend to soothe and calm, and to add a mesmerizing tone to the blend. It is of course anti-bacterial. Using magnolia helps make the blend pleasant and a little intoxicating!

Lavender – Researchers at Cornell University found that lavender can eradicate certain antibiotic-resistant bacteria, including more than one strain of pathogenic Staphylococcus and pathogenic Streptococcus (often involved in coughs and colds).   Lavender is also a good anti-fungal. It's well-known for relaxation and helps to soothe the nerves. Lavender is one of the most popular & used essential oils today.
Neroli – Neroli can soothe agitation, reduce cortisol levels and help mood. It is a great anti-bacterial, of course, and as a citrus is very cleansing. Known in aromatherapy for emotional support, it brings aspects of both "soothe" and "purify" to the blend.
Fir Needle – Fresh but not over-stimulating, fir needle is a powerful antiseptic that can stimulate the immune system and prevent infections.
Majoram – Warm and woodsy, majoram comforts, calms and relaxes. It is an anti-inflammatory as well as anti-bacterial. It is slightly sedative and supports the immune system.
Clove – Clove is able to purify blood and fight viruses – it's quite medicinal! Antioxidants in Clove essential oil scavenge for dangerous free radicals. It is a strong anti-inflammatory and anti-bacterial essential oil, and warming. (Clove is often diffused in French clinics & hospitals against bacteria and microbes.)
The Magnolia & Lavender offer a high, floral note while the Majoram, Fir Needle & Clove offer a warm woodsy element. Neroli bring the citrus touch.
HOW TO USE: Put 3-4 drops in your diffuser, and purify your air!  Start with 3 or 4 - you can add more if needed - as the BLEND is STRONG!
ADD TO CART ABOVE