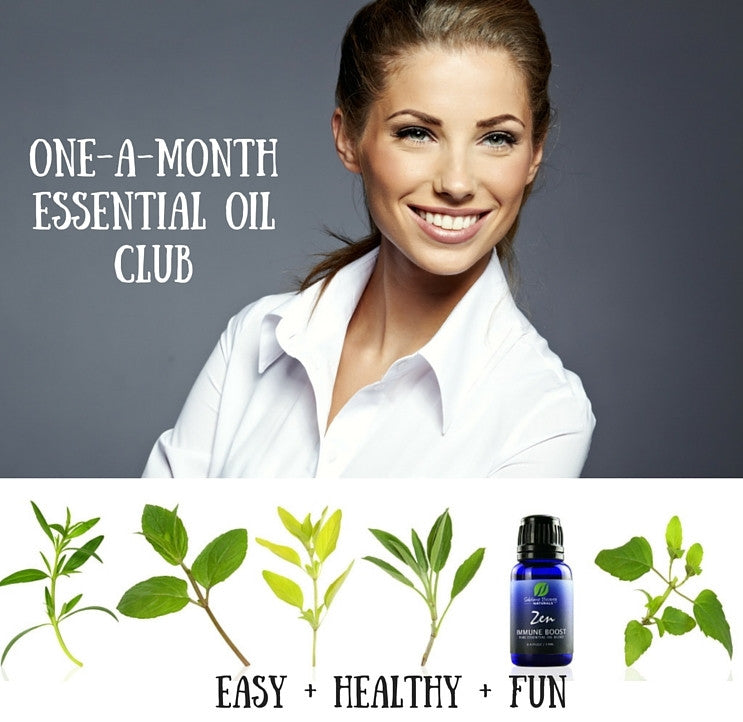 Sublime NATURALS® | Essential Oils + Organic Face & Body
ONE-A-MONTH ESSENTIAL OIL CLUB
$ 11.99
The ONE-A-MONTH CLUB is your easy and fun Essential Oil Subscription Service.
Each month, on or by the 5th, your new essential oil will ship and a full profile and HOW TO guide will be emailed to you. We send a different essential oil each month, and it can be a surprise (most people prefer to be surprised) - or you can request the planned schedule (just email us!). 
Midnight of the 1st every month is the cut-off date for signup and to get your first shipment the same month (i.e. shipment goes out on or around the 5th).  The 1st is also the rebilling date going forward!  You must be signed up by the 1st to receive the mailing that ships by the 5th!  Otherwise you will get your first shipment in the next month.

YOU ARE CHARGED $12.99 AT SIGN UP FOR YOUR FIRST ESSENTIAL OIL SHIPMENT; AND YOU ARE REBILLED EVERY MONTH ON THE 1st FOR THE NEXT MONTH'S SHIPMENT.
Easily Manage Your Account (Update, Cancel, View, Skip a Shipment). Just log in to your account (use the Sublime Zen tab at the bottom left of the page), click Manage Subscriptions by your name, and you can access everything!

TO DO:
1) ADD OUR PRODUCT TO THE CART.
2) YOU WILL BE ASKED TO CREATE AN ACCOUNT (or log in if you already have one) WHICH AUTOMATICALLY GETS YOU INTO THE SUBLIME ZEN POINTS ACCOUNT (GREEN TAB AT THE BOTTOM ON THE SCREEN ON RETURN VISITS).  YOU WILL GET RECURRING POINTS EVERY MONTH, AND DISCOUNTS ON ANY ADDITIONAL PURCHASES YOU MAY MAKE. THIS WILL ALSO EASILY KEEP TRACK OF YOUR CLUB ACQUISITIONS AND ANY PURCHASES YOU MAKE. YOU GET POINTS FOR SUCH THINGS AS YOUR BIRTHDAY AND SOCIAL SHARES, TOO.

3) WE WILL EMAIL THE HOW-TO AND PROFILE GUIDE WHEN YOUR OIL SHIPS - WE USE THE SAME EMAIL YOU USE TO SIGN UP!
As a Club Member, you will also get secret sales and discount codes at least once per month but often more.