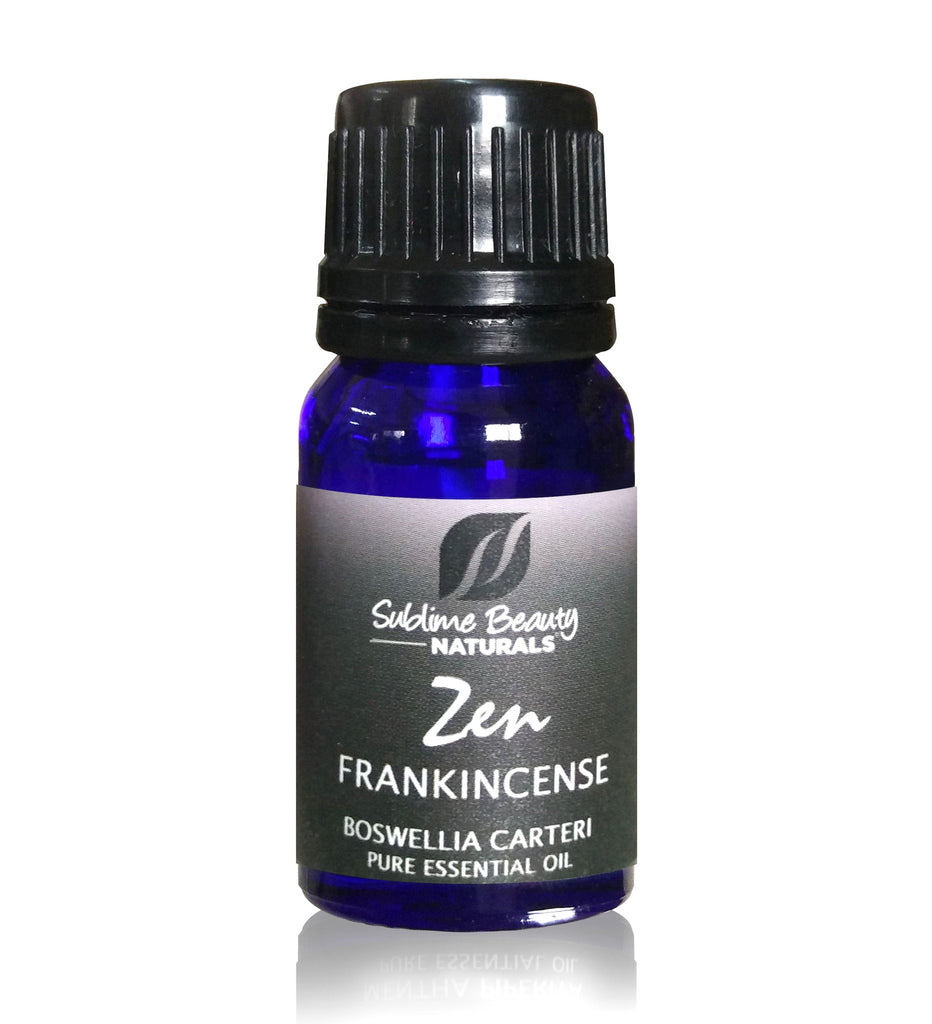 Sublime NATURALS® | Essential Oils, Wellness & Beauty
Zen FRANKINCENSE ESSENTIAL OIL
$ 13.99 $ 25.00
Frankincense is a Most Popular Essential Oil Today, and For Good Reason!
Latin Name: Boswellia carterii Sourced: Somalia
Production: Steam Distilled (the oil comes from the resin of a tree)
LISTEN TO THE AUDIO ABOUT FRANKINCENSE:
100% Pure Therapeutic Quality. (GC/MS report available upon request.)
A FEW HISTORICAL ANECDOTES: Frankincense was treasured as much as gold in ancient times because of its powers to relieve pain and promote healing. It was burned (diffused) for cleansing in temples, for religious ceremonies and in some homes (and is still diffused in Catholic churches). Before the Romans, there is documentation that Babylonians, Assyrians and ancient Egyptians used Frankincense profusely!
HOW TO USE:
1) Frankincense is wonderful to breathe in (from the bottle, a personal inhaler, from a tissue or cotton ball); use it in your diffuser. 

2) In some instances (after a patch test) a few drops can be applied directly to new scrapes or cuts, insect bites, and boils for healing. Only a few drops 1-2 times daily for several days is needed (at the beginning of healing.) 

3) Topical: some drops can be added to a cream or oil for topical application – great skin regenerator and ideal for anti-aging applications, too. The cell regeneration qualities are great as an anti-aging tonic. Pur some drops of Frankincense in a body oil and use after a shower.

4) Ongoing Respiratory Issues? You could benefit from using Frankincense on a regular basis in different formats: drops in an oil or cream massaged on your chest, a drop to your shampoo, inhaled from a diffuser, or several drops in a bath or foot soak. It can also help with a temporary build-up of phlegm – use 3-5 drops in your cream or oil and massage on the throat, chest and even temples.

5) Note: For Arthritis and Rheumatoid Arthritis: In the U.K., Cardiff University scientists found that Frankincense could inhibit the production of key inflammatory molecules, helping prevent the breakdown of the cartilage tissue that causes these conditions. (ScienceDaily August 4, 2011.) Put some drops of Frankincense in an oil or organic cream, and rub topically on hands or joints daily or 4 times weekly.
6) Helpful to your Immune System.  We use Frankincense in our Immune Boost  Blend, and it is helpful to use alone as well. It will help to eliminate microbes either in your body or in the air that could make you sick.
7) Help reduce scars. Put several drops twice daily on any scars you may have. The younger and newer the scar, the better the results, but Frankincense will help skin cell regeneration and healing.
100% Moneyback Guarantee!
ADD TO CART NOW!